Stingy Men Association: SMAN trend, [Stingy Women Association of Nigeria] Nigerian celebrities Join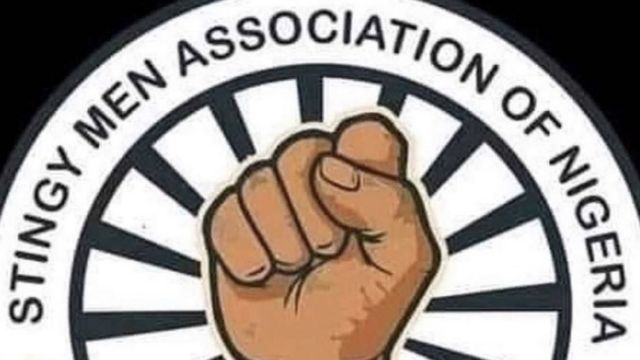 "Stingy Men Association" of Nigeria trend as Don Jazzy, Nigerian record producer join the movement as 'Head of Union'.
This union got so many doubt if actually the "Stingy Men Association" was for real? its no doubt this is the latest trend among Nigerians.
How [Stingy Men Association] start?
From reports this union started in Zambia when men vowed they rather invest their money into business for benefit in returns than give to women.
THE question now is will relationships go on smoothly? because with the way things are going, it won't be surprising if all men finally tire up top this association.
Goal Of Stingy Men Association of Nigeria;
This association in Nigeria is a new movement and latest social media trend which has been used for fun lately mostly by Nigerians,.
The objective of this union is for men to uphold the dignity of the great association by not giving money by any means of financial exploitation to the other gender. Thereby promising not to be financially committed to anyone in a relationship with the men.
Nigerian celebrities who joined
Don Jazzy tweeted a picture of his own association ID CARD with the caption "Registration complete" as you can see below.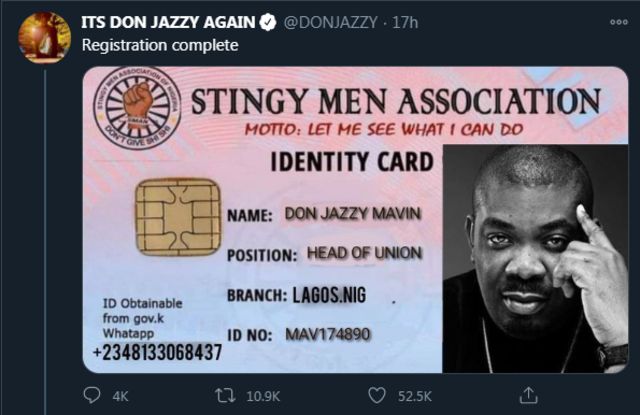 Nigeria Musician, Paul Okoye AKA RudeBoy also joined the association as he posted with the caption 'temporary' ID card as a member.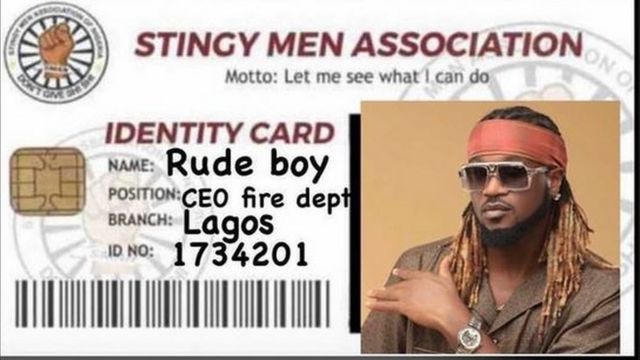 Social media influencers and some other Nigerian men have also shown interest to join the movement of men who do not want to spend money on women they are dating, with inscriptions on their 'supposed' logo saying "Don't give shi-shi".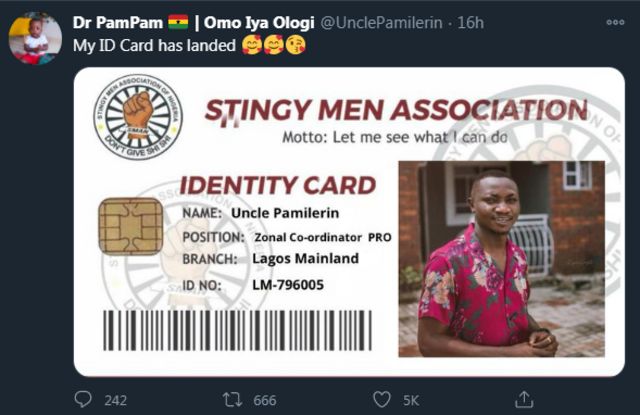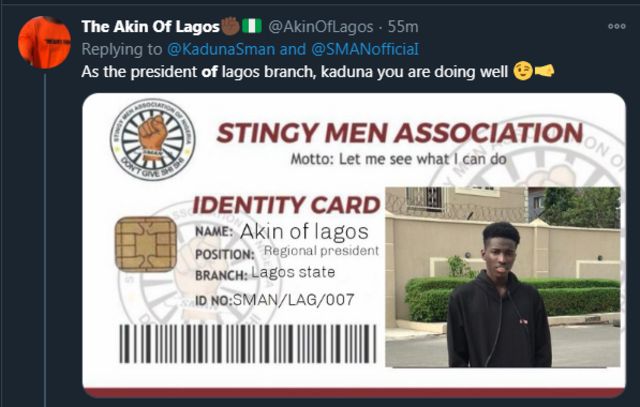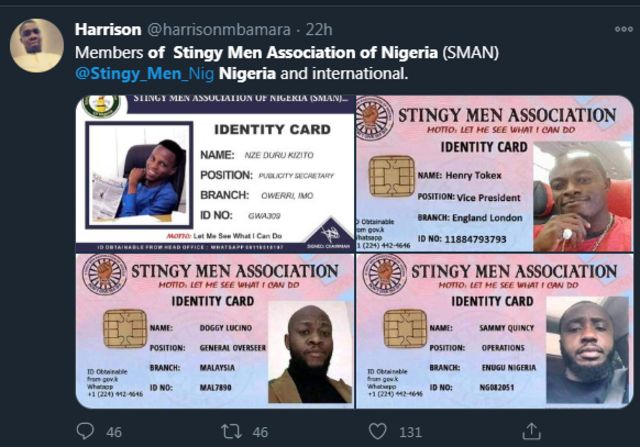 The cause of this association isn't known yet but it seems to be really serious and you might just find out why this association has made many to talk about.
Picture of what the membership looks like: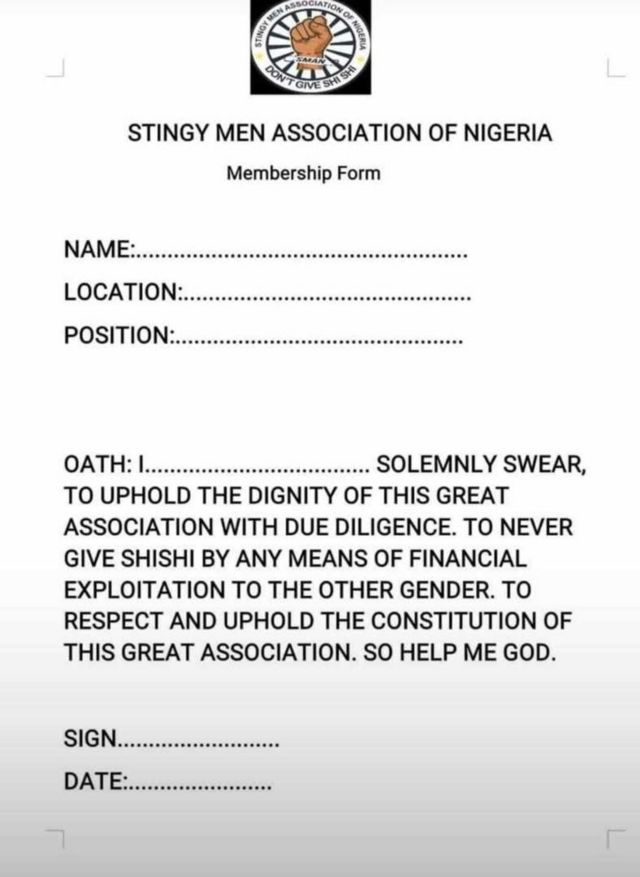 countries which have adopted [Stingy men Association]
Uganda men have adopted the association to limit their expenses in relationships while saving more on investments.
The men who supported and adopted this union tweeted saying they have been able to save since they don't have to pay for hairdo, transportation, shopping, etc and they say big thanks to the association.1
Just like other Stingy men associations in Zambia and Nigeria, Uganda also has a social media page with over 16k members on Twitter.
Below is the constitution of the stingy men association in Uganda;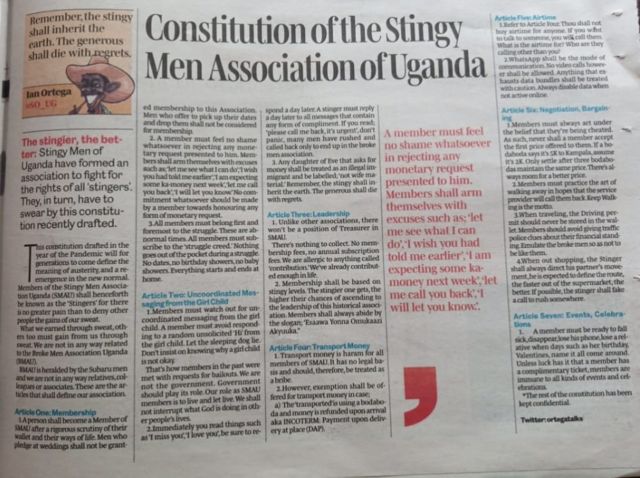 [Stingy Women Association of Nigeria] SWAN
Nigeria women have also taken to social media to launch a retaliatory Stingy Women Association, though it's yet not that popular but they already have some logos and social media responses.
You show smell danger, don't you? now that the men say no to giving money to their women, what will be the constitution of the women?
Well we bring you updates on this in the days ahead.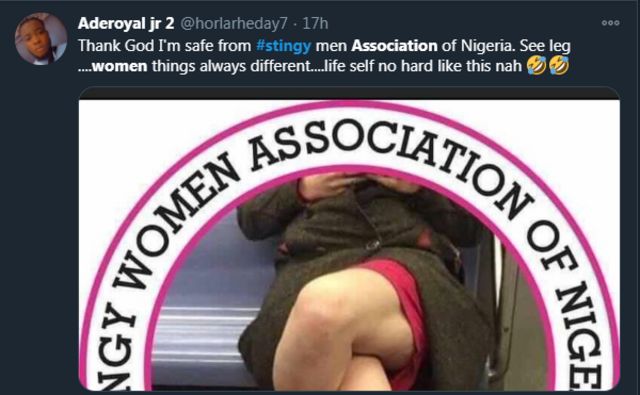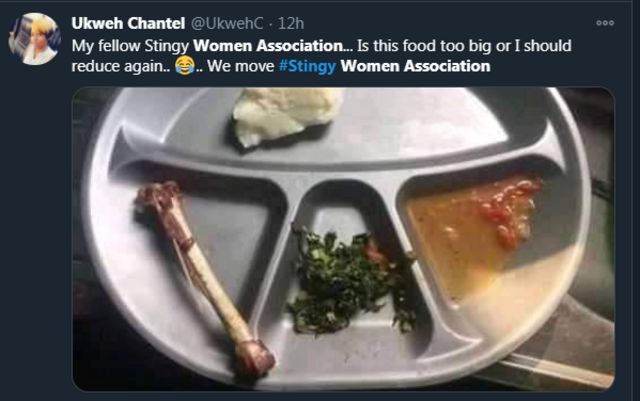 What do you think will be the constitution of women?
Follow me on social media: