Maradona Live Video- Fans Pay Final Respect To Argentine Legend At Presidency
Its with great pain that Agentine fans finally admit that their legend who made news in the world cup in 1986 is finally gone and will never return again.
Argentine had declared a three day mourning for the Legend who left his fans, family and friends to a better place yesterday.
The three days of national mourning in honor of the legend have begun in Argentina after the national hero died following a heart attack on Wednesday at the age of 60.
It was all emotional as you could find some people weep, others blowing kisses and making prayers as they filed past the coffin being displayed at the Casa Rosada.
Its not easy as million of persons are expected to visit his casket to bet him farewell.
Maradona's coffin – draped in Argentina's national flag and football shift, bearing his trademark number 10 on the back – is expected to be on public display at the presidential palace until Thursday afternoon.
There were tense scenes when the Casa Rosada opened its doors, as some fans pushed and shoved against the barriers, which were lined with security forces. His family and former teammates took part in a private ceremony earlier in the day.
The formal Argentine greatest football player of all time, Maradona had a hard time fighting against his cocaine and alcohol addiction. this international figure, had successful surgery on a brain blood clot earlier in November and was to be treated for alcohol dependency.
Local media said the preliminary results of an autopsy showed Maradona had suffered "acute heart failure". A spokesman told AFP news agency he would be laid to rest in a cemetery on the outskirts of Buenos Aires, where his parents were also buried.
Maradona Live Video- Fans Pay Final Respect To Argentine Legend At Presidency.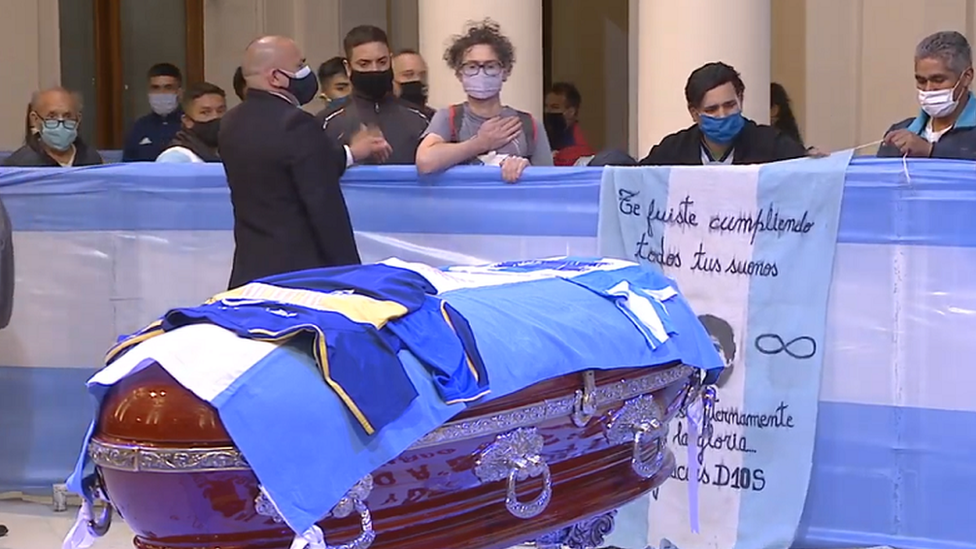 click to watch live video
Follow me on social media: