Falz, Runtown lead demonstration In Lagos-End Sars
Nigerians have endlessly complained about special unit SARS ( Special Anti- Robbery Squad) for their brutality and corrupt action. SARS are becoming increasingly worse despite all complaints and plead to reform and carry out investigations so as to stop violation and put them back on track has fallen on deaf ears. 
Last weekend, the Nigerian police announced another band on SARS and other tactical squads against routine patrols. It should be noted that this happens to be the 4th ban on them in four years. The Minister of Police Affairs has also announced an investigation into infractions by the police unit.  
Falz, Runtown lead demonstration In Lagos-End Sars
After the inspector General of Police ordered members of the Federal Special Anti- Robbery Squad (FSARS) and other tactical sqaurd to stop controls and search at checkpoints on the road, Falz, Runtown lead demonstration In Lagos-End Sars demanding the government to end police battery.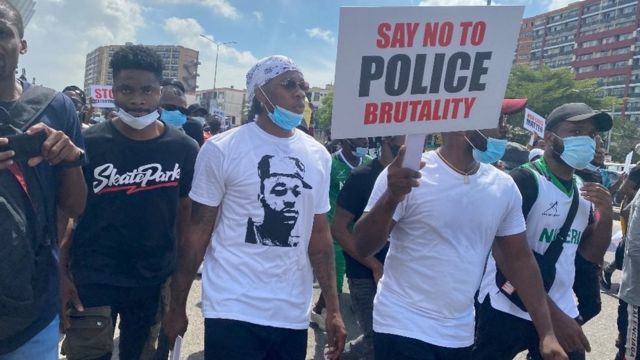 On Sunday, after the report of a young guy who died due to police brutality in Ughelli town, in Delta state, which was denied by the police, Celebrities then got really mad at the situation and vowed they couldn't let this one pass them by which is why this protest came about.
Falz and Runtown tweeted on their tweeter handle that they will protest on Thursday and actually kept to their word unlike Naira Marley who changed his mind after he had promised to protest on Tuesday I guess it must have been hard for his fans to deal with.
Alongside the two artists were angry citizens with placards and banners who have had enough of SARS hash treatment. The angry protesters say they are not interested in any amendment, all they want is the squad totally removed from the security system.
What do you think will be done? do you actually think this squad will be removed from the system?
Follow me on social media: